A few lovely bloggers are about to have an addition to their families: their second child.

(Cue OMINOUS MUSIC)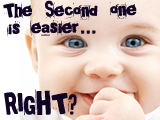 Nah, it's not that bad - really!

(Cue MERCURIAL MUSIC)

Ah, that's much better. You see, I'm right in it. We had our second baby six months ago on this very date. We are right in it. (My favourite acting teacher would use the expression "in the shit", but contrary to what you might believe, being "in the shit" is a good thing.) I think that when people give first time moms advice, they tend to gloss over all the really crappy stuff because they don't want to scare them. You, my fine friends, have been there. You know that some of the stuff that goes along with being the mom of a newborn is pretty sucky. Personally, I would have preferred the truthy truth the first time around - I would have felt better prepared. However, it's nice to keep the veil of innocence going for as long as you can, too.

As to the question posed - Is the second child easier? - the answer is...drumroll please....

YES!

Absolutely. In an oh-my-sweet-lord-why-on-earth-did-I-think-this-was-so-hard-the-first-time and-what-the-hell-did-I-do-with-all-my-time-and-why-could-I-never-seem-to-get-anything-done kind of way. It really gives you perspective. I will admit that I was kind of dreading doing the whole baby thing over again because we had such a hard time the first time around. Every single thing was a struggle. Nothing came naturally. I enjoyed him so much more when he got older, and I thought why would I want to go back to square one again? Except that we knew that, down the line, we wanted to have children. Plural. Not singular.

The thing with the second one is, you've paid your dues. The learning curve is not nearly as difficult. Yes, chances are the second child will be completely different than the first, but you can still extrapolate all the information you gleaned from the first. And you know that not everything is a crisis. You won't Ruin Their Life if you make one bad decision. It sounds callous to say that you don't care as much, but it's a GOOD thing. You don't micro-manage every single minute. And everyone - baby included - can breathe a sigh of relief.

BUT.

You knew there'd be a "but" right?

The second baby IS easier, but managing the second baby AND the firstborn is somewhat tougher than I thought it would be. It's a real juggling act to handle two completely different schedules, and there's not a heck of a lot of downtime. It's tiring. So here's what I would suggest, at least for the first few months:

GET HELP.

We kept the Boy in daycare full time in the beginning, and though I felt guilty at the time, it was one of the best decisions we made. It keeps his routine somewhat close to normal, gave him social interaction that he wouldn't get at home, and gave me some time to focus on the baby.

GET HELP.

My husband comes home from work early whenever possible. My mom comes for regular visits, and will even take the Boy for the weekend. In the early days, playdates sounded like a lot of effort, but are much more relaxing because you have an extra set of eyes (and friends to talk to!). Minimize the time you're alone with two children at first, because it can be overwhelming to be outnumbered when you're so tired.

GET HELP. (Did I mention that already? I can't remember.)

Now that we've dropped some days at daycare, we're looking into getting a housecleaner once a month or so. I'm hoping this person might even be willing to do some laundry too (a girl can dream, right?). Both of these can become out of control rather quickly, and the last thing I want to do with a spare minute is clean or fold laundry.

At the end of the day, though, what makes it all worthwhile is the look of adoration in the Little Guy's eyes as he watches his big brother. It's heart-burstingly wonderful. I could throw out all the toys because he could occupy himself quite well doing nothing but ogling his hero. And to hear the Boy announce, every chance he gets, to all his friends and strangers too, "That's my baby brudder!" Well, it's music to my ears. And there is no sweeter sound.

All my best wishes, love and support to three soon-to-be moms of two: Her Bad Mother, Mrs. Chicky, and Mrs. Chicken.